Orlando Hummer Limo Service is available for transfers, charter and events anywhere in Central Florida!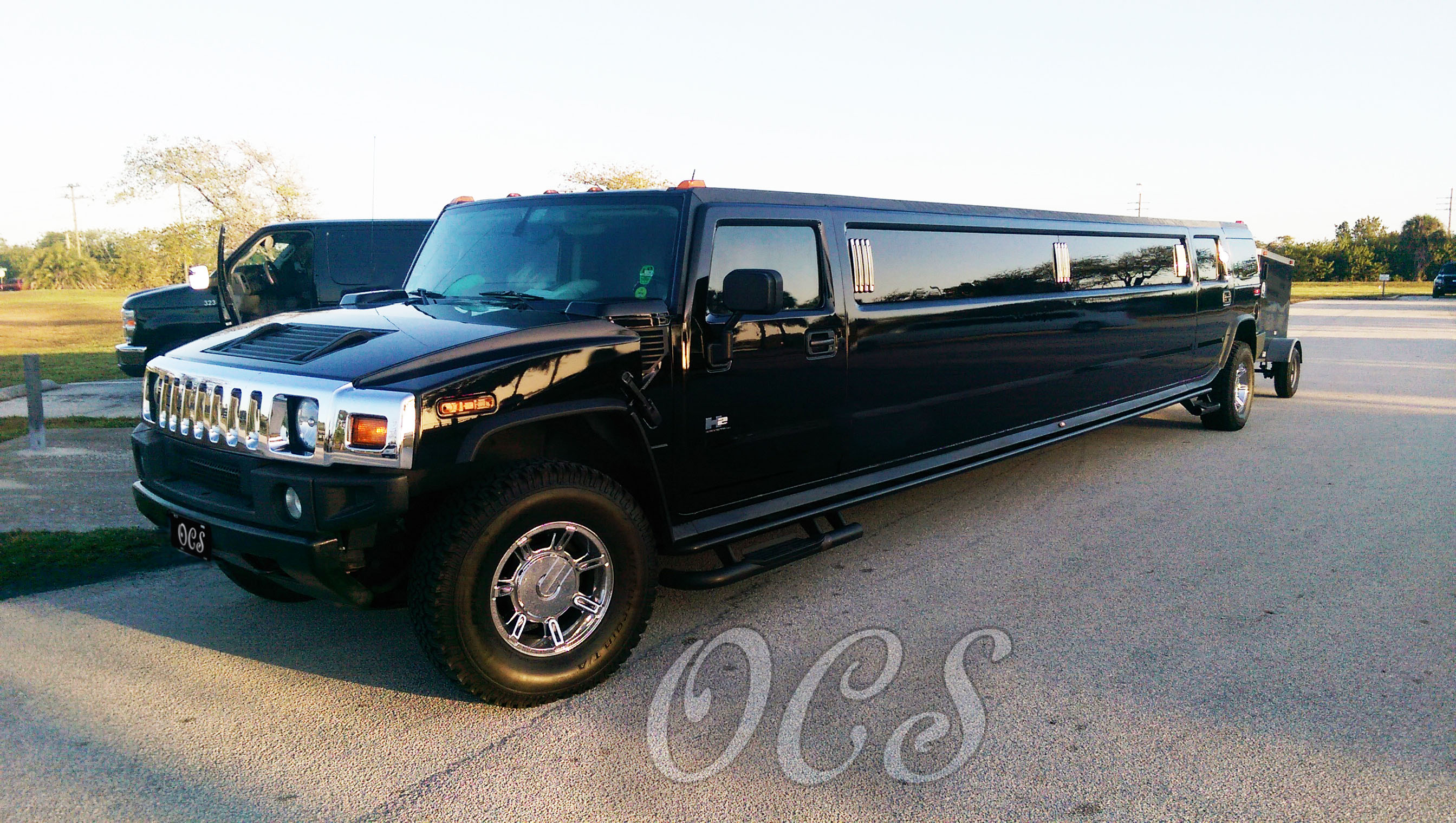 Black Hummer Limousine (18 pax) Sun-Thurs min hrs: 3 · Fri-Sat min hrs: 6

White Hummer Limousine (18 pax) Sun-Thurs min hrs: 3 · Fri-Sat min hrs: 6
---
Available Hummer Limos
Hummer Limousines are the perfect vehicle for any occasion! These vehicles are over 40' in length and can accommodate 18 to 20 passengers. When it comes to Hummer limo service in Orlando we are your #1 option for a vast variety in styles of Hummers. We have a Hummer stretch limousine to meet every need. Our chauffeurs that operate these monstrous land yachts are nothing less than the best CDL licensed top notch senior chauffeurs. We are pleased to offer you multiple color Hummer limousines and can assure you the top notch interiors. These vehicles are no longer in production so what we do is have the latest models and continuously up date them with the finest coach builders to always keep them fresh.
Our hummer limousines are the best inside out and we have everything from the regular 200 inch stretch Krystal hummer limousine to the extreme beast of triple axle hummer limousine that accommodates 30 passengers. There is no extreme that we can not meet. We provide the best Hummer limousine service in all of Orlando. During prom season the Hummer limo rental is the most popular out of all the vehicles as it can accommodate the most kids to make it the most affordable divided by all the parents involved. All our chauffeurs will go over the contract with you and your child to assure you seamless service and extra special attention to the safety of all students.
If you are planning a bachelor party or a night out on the town for a special event the rental of a Hummer limousine is usually the best bang for your buck. They will make your arrival at all locations automatic VIP status and the ride around time a party on wheels. There is a full wet bar and wrap around leather seating with lots of fiber optic lighting and built in coolers. Our Hummer limousines come stocked with waters and ice. We offer the best limo service in Orlando and no competitor can match the level of service provided.
---
Request a Limousine, Sedan, Car or Van Quote!
---